Are you a maker of amazing handmade pieces? Well…we would LOVE you to sell your awesome products with us! Our customers truly love and appreciate the value of a handmade item and so do we! So let's do this!
But why? Well let's give you a few good reasons to sign up now!
Low cost shopfront fees – we truly love, are obsessed and totally passionate about Australian Handmade so we have done what we can to ensure that our fees are minimal! These fees go towards the maintenance of our website, assuring our server keeps on ticking, promoting our fabulous shop and ensuring that our website always looks its best! Pay just $99 for a 12 month shopfront! That's under $9 a month for you to have your OWN SHOPFRONT with access to Afterpay! AND when renewing your storefront with us after 12 months, your fees will be discounted by 20% off the current storefront registration fee at the time of renewal!
No hidden fees or commission! Don't you hate it when you find a 'free' or 'low cost' platform to sell your gorgeous handmade items... only to find they charge a commission fee of sometimes up to 10%? No us either! Which is why we do not charge commission fees! You know your cost is upfront, regardless of how much you sell!

There are no commission fees charged, only a minimal capped payout fee to help cover cost of fees charged by PayPal to us for paying you out and administration costs. This will be capped at $1 per payout for payouts $50 and under and $2 for payouts over $50. The payouts amounts will be less the amount charged by the payment gateway (i.e., varies depending on how the customer pays). (Afterpay payments - 6% plus 30 cents and then plus GST on that 6% and 30 cents, Paypal payments - 2.6% + $0.30, Shopify payments (credit card) - 1.75% + 30¢)

Manage your own products and orders– our easy to access and use vendor dashboard will make it easy for you! You will be able to easily add new products, edit existing products and manage your inventory. Tracking details can all be entered via this dashboard.
Set up your store with us or just list a few products – our Love Australian Handmade Shop can be set up to provide you with a complete storefront for your business or list as little as one product with us, the choice is yours! Have

up to 100 products

live in your storefront at any one time!
Redirect your own domain name to your storefront at Love Australian Handmade!
Regular and easy payments – Payouts for the sale of your products will occur once a week on a Friday to your nominated PayPal account, this means you get your money as soon as we pay you...yay! The amount paid (your commission) will be minus the payout fee and gateway charges.
Established brand – we have experience both in running a handmade business and also in running an established Facebook group for handmade businesses. We have been actively involved in the handmade space for over 7 years. We know this space intimately from both a buyer's perspective and a business perspective. We know the challenges involved in handmade start ups - so you get the benefit of this knowledge!You can learn more about us here!
Personal service – We offer personalised service and support for your business. If we can't help, we'll try and find someone that can. We have your back!
Australian owned and run – We are based right here in Australia, just like you!
Quality handmade – We pride ourselves upon on listing products that we believe in and that are great quality. We do have a screening process for accepting new products, so be assured that you listed amongst the best!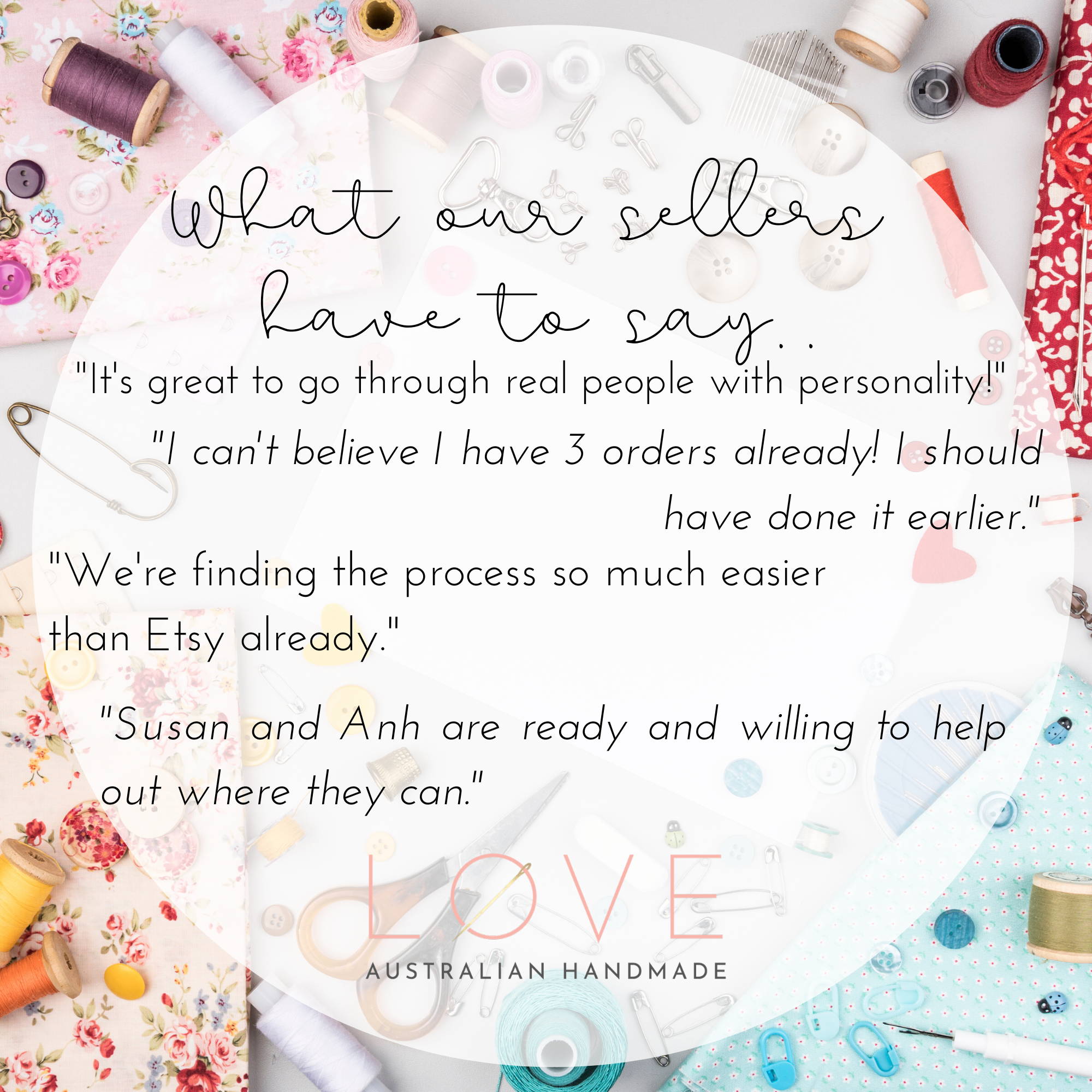 Once your business has been approved to be sold with us, we will set you up your seller dashboard. Here you will be able to set up your product listings, and manage your inventory. Once set up your products will be listed for sale on our website!

Customer purchases the product from our website. You will receive an email notifying you of your order and this will also be added to your seller dashboard.

You will be paid once a week (every Friday) into your nominated PayPal account. This amount will be minus a payout charge (capped at $1 per payout for payouts $50 and under and $2 for payouts over $50) and less the amount charged by the payment gateway (i.e., varies depending on how the customer pays). (Afterpay payments - 6% plus 30 cents and then plus GST on that 6% and 30 cents, Paypal payments - 2.6% + $0.30, Shopify payments (credit card) - 1.75% + 30¢)

You (you amazing maker you!) then create their amazing handmade piece and get it ready to ship off directly to the customer. Once shipped, you can fulfil your order from your seller dashboard which then automatically sends a shipping to the customer with tracking (if applicable).
SO WHAT ARE THE FEES AGAIN?
THE FINE PRINT - IMPORTANT BITS & PIECES
Once you apply as a vendor we will email you to find out some more information about your brand and business. *So keep an eye out for that email! We will then assess your application and get back to you to let you know if your application was successful. We want to make sure that we list Australian Handmade's best, which means that when you sell with us, you know you are amongst good company! If you're not successful, we will let you know what steps you can take to get there. We want you to be the best handmade business you can be!

To sell with us, you must have an ABN.   'Just a hobby business'? If you intend to sell your items, you require an ABN. It's quick and free too! WOOHOO! You can read up more HERE.

We highly recommend that you hold appropriate product liability insurance if selling your handmade products

All products listed for sale on Love Australian Handmade must be 'significantly transformed by the maker' to meet our definition of handmade. Commercially made blanks such as water bottles, mugs, glasses, tshirts etc as a whole are not permitted to be sold on Love Australian Handmade. However, there are some circumstances where blanks may be permitted such as nesting dolls that have been hand painted. Examples that will not be permitted include personalised water bottles with customisation of names and images, manufactured towels with embroidered names or mugs with typography printed. Vinyl decals on their own are also not permitted.

Digital prints are permitted if the print is created using the makers own drawings or paintings. Photography prints (or digital) are not permitted. Clip art/purchased graphics can be used as component in the creative process, however clip art/purchased graphics cannot be used on its own.

Upcycled items are not permitted unless there has been substantial creative input. For example, vintage curtains that have been repurposed and made into a skirt is permitted. A chair that has been reupholstered is not permitted.

Teaching resources, plants and food items are not permitted for sale on Love Australian Handmade.

Essential oil blends are not permitted for sale on Love Australian Handmade, there may be the exception of trained aromatherapists and perfumers.

Baby teething products, dummy chains and baby play gyms/toys are strictly not permitted for sale on Love Australian Handmade unless they have been independently tested and certified to meet Australian Safety Standards. Insurance must also be taken out for these products.

If you intend to sell toys on Love Australian Handmade or pieces that may be played with as toys by children, you must have current product liability insurance and provide a copy of this on request.

Any items that clearly use trademarked wording/logos/images or copyrighted work cannot be sold Love Australian Handmade, unless the seller can demonstrate that they hold the appropriate license to use and sell works using trademarked/copyright works.

We understand that art and creativity can be inspired by experiences and places, and also different cultures. Love Australian Handmade has made the decision not to list items that are culturally inspired unless it comes from the makers personal heritage. We believe in celebrating diversity whilst recognising appropriate ownership and use of culturally significant symbols, art, and heritage.

All products uploaded by the seller, must include all essential information such as pricing, inventory levels (if applicable), postage type included and turnaround times. If any information is missing or there is an issue with a product listing, Love Australian Handmade will be in contact via email to the seller to discuss any issues or missing information prior to approving the product.

All products must be submitted to Love Australian Handmade by the seller. These will be approved within 24 hours (however likely a lot sooner) of being uploaded by the seller. If there is a delay, Love Australian Handmade will advise via email. If you would like to schedule your products to go live at a set date/time, please email Love Australian Handmade and we can set this up for you.

Read our seller terms and conditions in more detail HERE

Phew that was A LOT! But you made it! WOOHOO!

WE ARE CURRENTLY CLOSED TO NEW SELLERS....

Hold that thought and watch this space....